Powerful Antiviral Disinfection Services
Keep your workplace or home clean and safe with powerful antiviral disinfection services from the Aqua Blasters. Our range of disinfectant and antimicrobial fog treatments mean our dirt-busting heroes can now kill and provide long-term protection from harmful bacteria, viruses and pathogens.
What are our antiviral disinfection services?
For our antiviral disinfection services, we use an electrostatic backpack sprayer to fog entire rooms quickly and effectively. We use industry-leading solutions that kill a wide range of bacteria, viruses and pathogens on surfaces and provide ongoing protection against reinfection for up to 30 days.
Our antiviral disinfection services are perfect for both residential and commercial premises, including healthcare, hospitality, childcare and manufacturing.
Book Now
Our two main services are:
Our deep disinfectant fog cleans and sanitises large spaces with ease. The solutions we use kill up to 99.99% of bacteria, viruses, mould and spores in seconds. The rapid application together with the fast-acting formula means our disinfectant fog is great for hospitality changeovers, deep office cleans and more.
And despite being tough on pathogens, our disinfectant fog is non-toxic and gentle on the skin, so it's safe for your family, guests and employees.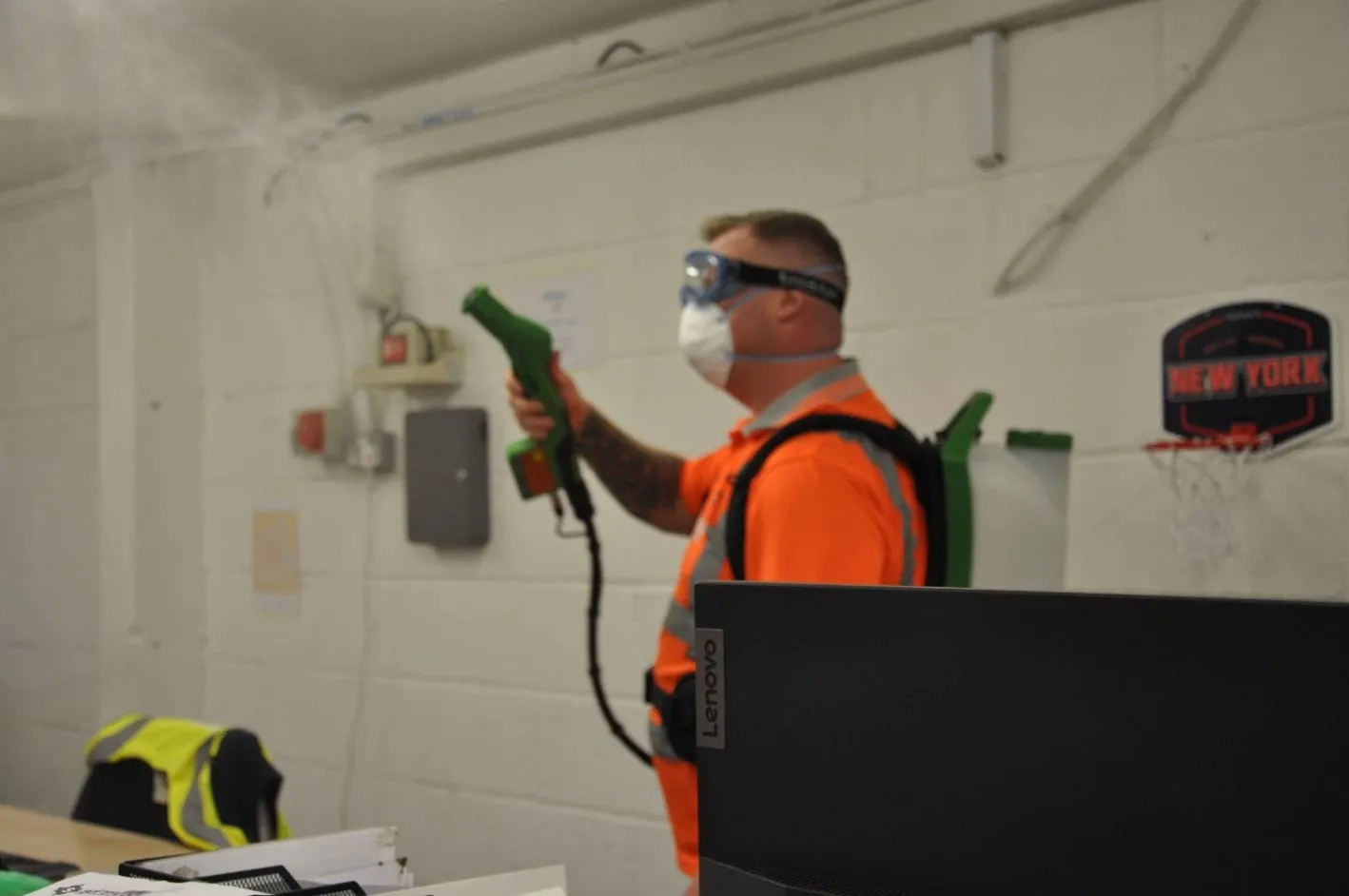 Protective Antimicrobial Fog
Our protective antimicrobial fog uses a combination of purified, deionised water and an antimicrobial compound to create a powerful, hostile coating on surfaces that continues to break up bacteria and viruses on contact for up to 30 days.
Our antimicrobial fog is water-based, colourless and non-leaching so it's gentle on skin and surfaces, and it's safe for animals and children.
What are the benefits of our antiviral disinfection services?
Our disinfectant fog cleans deeply and effectively, killing up to 99.99% of harmful bacteria and viruses.
Our antimicrobial fog provides ongoing, broad-spectrum protection against bacteria, viruses and pathogens for up to 30 days.
Gentle on Skin & Surfaces
The products we use are non-toxic and gentle on the skin. So while they're tough on germs, they're safe for your employees, customers, children and animals.
How often do I need an antiviral disinfection service?
We recommend a disinfectant fog every time a thorough clean and sanitise is needed, with a repeat antimicrobial fog every 28 days.
We cover Kent and the whole of London.
Prices vary depending on the size of your property. Give us a call today and we'll be happy to give you a no-obligation quote.
We are fully insured and specially trained to use high-pressure water jetting equipment safely.